Healthy Super Bowl Eats
BACK TO ARTICLES
1.30.17 | CMC - Blue Cross Blue Shield - Editorial
When the Patriots and Falcons face off in Super Bowl LI, eyes will be on the food as much as the game. Superbowl Sunday is only beat by Thanksgiving in caloric consumption. It's easy to overindulge on the many tasty, but less-than-healthy party offerings such as fried chicken wings and rich dips, but a few simple modifications and healthier alternatives help minimize post-party damage. "The best way to stay as light on your feet as possible is to put a spotlight on plant-based goodies," says Jeanne Molloy, RD and wellness manager at Fordham University, NYC. "Getting creative with fruit, vegetables, legumes, nuts, and seeds will give you the energy to cheer into overtime."
Molloy suggests the following healthy party recipes: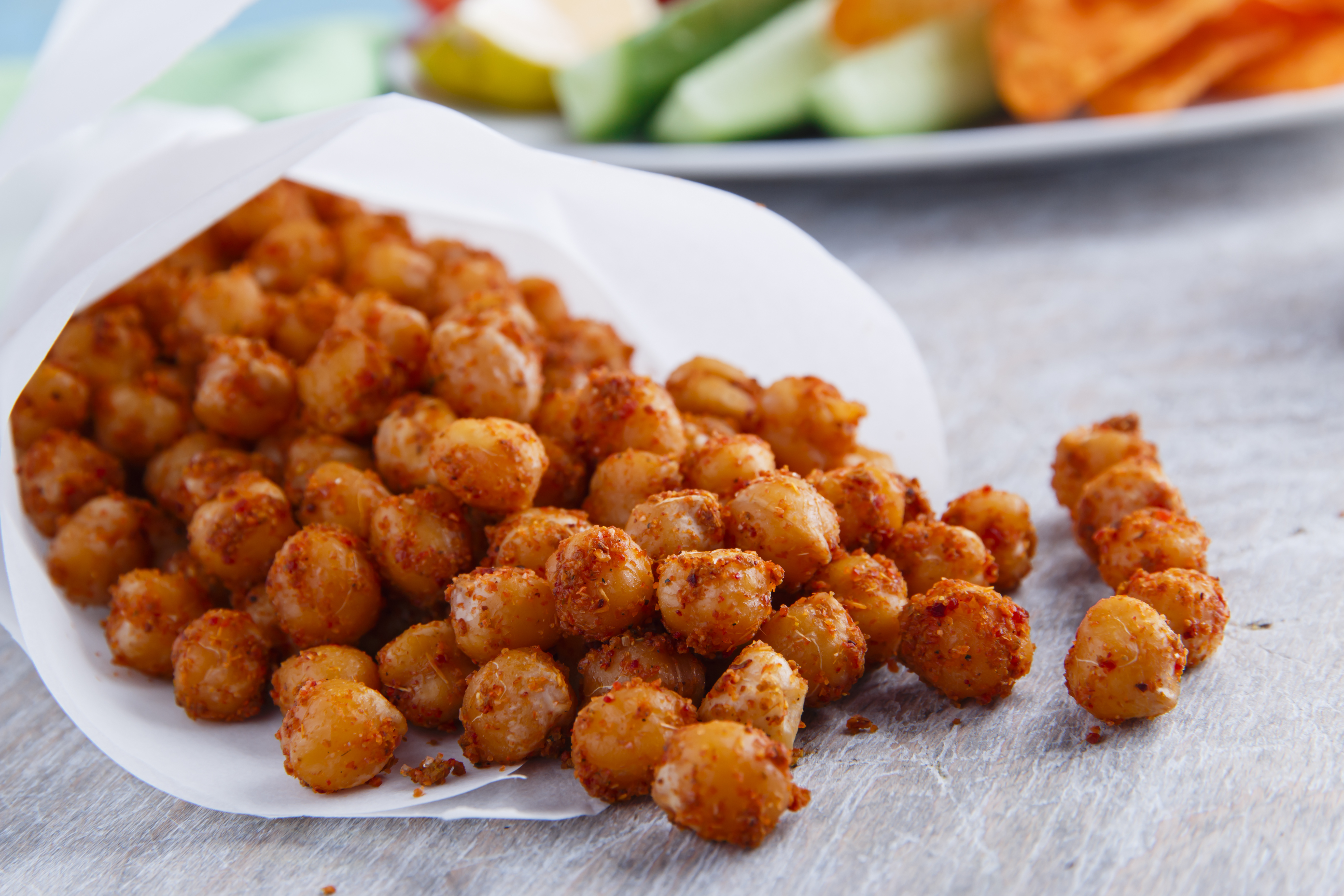 Roasted Buffalo Chickpeas
2 cans chick peas
2 Tbsp melted butter
1/3 cup buffalo sauce (Frank's Red Hot)
1 tsp garlic powder
1/2 tsp Kosher salt
1. Preheat oven to 400 degrees F
2. Drain chickpeas and pat dry with paper towel
3. Mix together remaining ingredients
4. Place chickpeas on parchment lined sheet tray
5. Pour sauce over chickpeas and mix well to coat evenly.
6. Roast for 45 minutes, turning every 15 minutes.
7. Store at room temperature up to a week.
Fruit Kabobs with Lime Yogurt Dipping Sauce
2 cups plain yogurt
1/4 cup honey
2 T freshly squeezed lime juice
1/2 tsp grated lime juice
Assorted Fruit on kabob skewers
1. Mix the first 4 ingredients in serving bowl
2. Thread the assortment of seeded fruit on skewers. Mix it up to keep it colorful and enjoy.
Snacking on popcorn instead of chips also saves hundreds of calories. An ounce of commercial nacho chips clocks in at 144 calories and 7 grams of fat; an ounce of plain air-popped popcorn is just over 100 calories and contains a single gram of fat. Try the following quick popcorn recipes, courtesy of DocPopcorn.com:
Sugar & Spice Popcorn: Combine 2 tablespoons of paprika, 2 tablespoons of finely chopped fresh parsley leaves and 1 teaspoon popcorn salt. Drizzle 8 cups of popped popcorn with 2 tablespoons extra-virgin olive oil in a large bowl and toss to coat. Add the seasoning mix, toss again and serve.
Snobby Popcorn: Toss 8 cups of popped popcorn in 1 tablespoon of truffle oil. Then, add 2 tablespoons of sea salt. Top it off with freshly grated parmesan cheese and season with salt to taste. (Optional, for more decadence: add 2 – 3 tablespoons of melted butter to the truffle oil).
Super Cheese Popcorn: Toss 8 cups of popped popcorn with 1 cup of shredded cheddar cheese and 1 cup of grated parmesan. Spread evenly on baking sheets and bake at 350 degrees until the cheese melts (about 5 minutes). Salt to taste.
Try one of the options above to get your snack on during the big game without feeling guilty by the end of the fourth quarter. Even if your team is losing, you will score a personal victory by way of healthier eating!
BACK TO ARTICLES