Select content that is important to you from the menu below.
Click on a category, then drag and drop the daily article news feed that interests you into the area below.
Content Archive
View previously published articles with the most recent shown first. Filter the articles by clicking on the category title, Health, Family, Lifestyle, or Nutrition.
Young Families:
5 Edu-taining Activities for Little Kids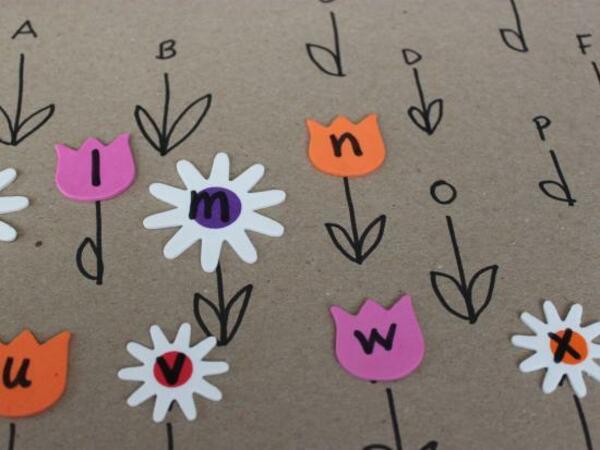 Photo by: Working Mother Editor
Your kids will learn letters and letter sounds while they feed the robot to keep him happy.
What you'll need:
toilet paper roll
magazines
child-friendly scissors
tape
markers
Fold the ends of a toilet paper tube in and tape them closed. Draw a robot face on the front of the tube. You can even include an on-and-off button (using red and green markers). Give your child a pair of kid-friendly scissors and let him cut out letters from a magazine. Then it's time to feed the robot! Have your child pick a letter, name the letter, say the letter sound and stick it into the robot's mouth.
Photo by: Working Mother Editor
Reinforce knowledge of lower-case letters and let kids have a great time playing with one of their favorite things—cars! They won't even realize they're learning at the same time.
What you'll need:
poster board
toy vehicles
dot stickers
markers
Gather all the materials—half the fun of this activity is having kids go around the house gathering their toy cars. Then line up the cars on the poster board to get a general idea of how much room is needed. Use a straight edge and a pencil to draw the lines for the parking lot. Trace over them with marker and write on top "The ABC Parking Lot."
Write a letter of the alphabet in each parking space. You can choose to do one color for vowels and another color for consonants, if you want to reiterate that skill with your kids. To make this easier for younger kids, make each row of parking spaces a different color.
With a marker, write a lower-case letter on each dot sticker. Match the color of the sticker to the color of each row of parking spaces. Then have the kids put the stickers on top of their toy vehicles. They'll have a blast driving their cars around and "parking" them in the correct spaces.
Photo by: Working Mother Editor
Make a beautiful flower garden while teaching letters and letter sounds.
What you'll need:
large piece of paper
flower or dot stickers
markers
Prep the alphabet garden by drawing flower stems on a piece of large paper. Write a letter above each stem. Next, write letters on your flower stickers. (If you don't have flower stickers, draw a flower shape on the paper and use dot stickers with the letters written on them to stick inside the flower shape you drew.)
You can have your child match capital letters to capital letters or capital letters to lowercase letter. Ask your child to pick any flower to match, or work in alphabetical order to match all of them. To reinforce the alphabet, pick a letter and practice sounding it out together.
Photo by: Working Mother Editor
Play and learn letter sounds with this Alphabet Neighborhood activity made out of old cardboard boxes.
What you'll need:
3-5 tissue or dryer sheet boxes
permanent markers
household objects or toys
Cut off the top of each box and write a letter on the bottom with a permanent marker. You can stack and tape the boxes together, but it also works to line them up or spread them around the room.
Ask your child what kinds of things could live in the alphabet neighborhood. The rule of the game is that only things that start with the letter written on the box can live in the house. Have them hunt around the play room to find objects. Your child may want to hunt for one letter at a time, or find different toys and see if they can live in all the letter houses you've created.
You work with a few letters at a time to help reinforce letters that are tricky for your child, or save up 26 boxes for a whole alphabet neighborhood!
Photo by: Working Mother Editor
Help your child learn about colors in a fun, tactile way. Older siblings can join in and help.
What you'll need:
large sheet of white paper
construction paper in an assortment of colors
marker
googly eyes
pipe cleaners
glue
bag of mini pom poms in an assortment of colors
round paper punch (optional)
Cut out circles from different colored construction paper with scissors or paper punch. Glue the circles in a row on a plain sheet of paper, to form a caterpillar. Use the marker to add some details and glue on googly eyes and antennae.
Pile up mini pom poms and match the colors to the circles on the caterpillar for a DIY color-matching game.
---
Click here to view archives.
Customers should always refer to their benefit booklet or call the customer service number on the back of their identification card for detailed coverage information and limitations. See our legal disclaimer for more details.
@BCBSofAlabama