Select content that is important to you from the menu below.
Click on a category, then drag and drop the daily article news feed that interests you into the area below.
Content Archive
View previously published articles with the most recent shown first. Filter the articles by clicking on the category title, Health, Family, Lifestyle, or Nutrition.
Recipes:
Char Kuey Teow (Stir-Fried Rice Noodles)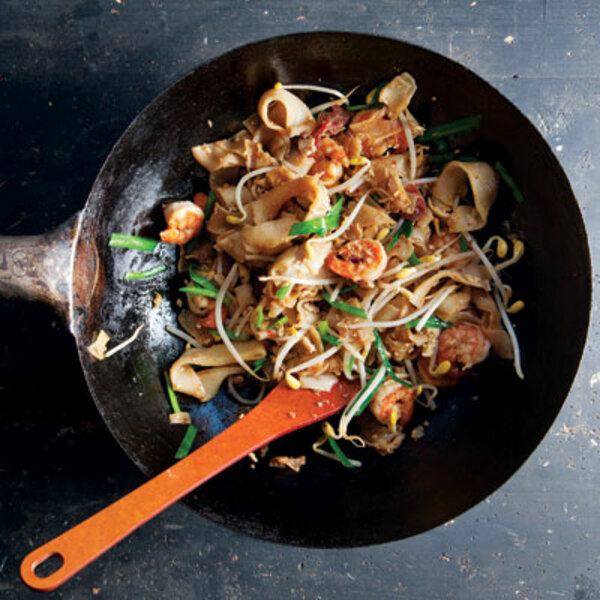 Credit: Todd Coleman
SERVES 2

INGREDIENTS
1 tbsp. dried shrimp paste
3 dried chiles de árbol, stemmed, torn into pieces, and soaked in boiling water for 5 minutes, drained
3 tbsp. peanut oil
2 cloves garlic, chopped
12 medium shrimp, peeled, deveined, and tails removed
1 6″ dried Chinese link sausage, peeled and thinly sliced
1 10-oz. package fresh broad Chinese rice noodles, rinsed and drained
1 tbsp. double black soy sauce
1 tsp. sugar
1 egg
4 oz. mung bean sprouts
6 Chinese chives or scallions, cut into 2″ lengths

INSTRUCTIONS
1. Place shrimp paste on a small piece of foil, and wrap around paste to form a packet; heat broiler to high and broil packet until fragrant, about 8 minutes. Let paste cool slightly, then transfer to a cutting board and add drained chiles; using a chefknife, cut and mash paste and chiles together until a smooth paste forms; set paste aside.

2. Heat oil in a 12″ wok or nonstick skillet over high heat. Add paste, and cook, stirring, until fragrant, about 1 minute. Add garlic, and cook, stirring, until just golden, about 30 seconds. Add shrimp and sausage, and cook, flipping shrimp once, until barely pink, about 1 minute. Break noodles apart with your fingers and add to wok along with soy sauce and sugar; cook, stirring often, until noodles are evenly coated and heated through, about 1 minute.

3. Make a well in the center of the noodles; add egg, and cook, without stirring, until the white is half-set, about 45 seconds. Add sprouts and chives, and stir noodles and egg until evenly incorporated and sprouts and chives begin to wilt, about 1 minute. Serve immediately.
---
Click here to view archives.
Customers should always refer to their benefit booklet or call the customer service number on the back of their identification card for detailed coverage information and limitations. See our legal disclaimer for more details.
@BCBSofAlabama