Select content that is important to you from the menu below.
Click on a category, then drag and drop the daily article news feed that interests you into the area below.
Content Archive
View previously published articles with the most recent shown first. Filter the articles by clicking on the category title, Health, Family, Lifestyle, or Nutrition.
Organic:
Creamy Orzo Risotto with Meyer Lemon and Wild Mushrooms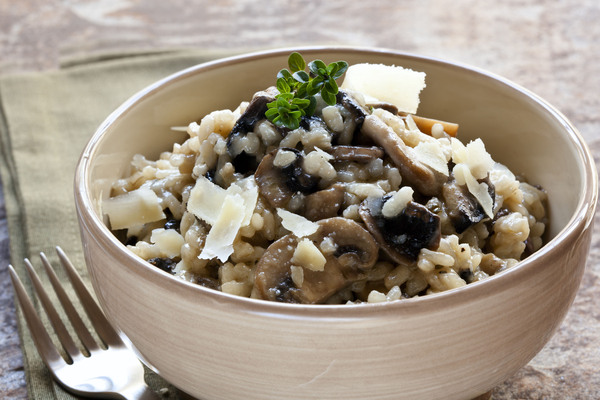 Serves 4–6
Ingredients
6 cups chicken stock
6 tbsp. unsalted butter
8 oz. hen of the woods, chanterelle, or morel mushrooms, cleaned and halved if large
3 medium shallots, minced
2 cloves garlic, minced
1¾ cups (12 oz.) orzo
1 tsp. freshly grated Meyer lemon zest, plus 1 tbsp. juice
1 tsp. minced fresh thyme
Kosher salt and freshly ground black pepper, to taste
½ cup cream
½ cup finely grated parmesan, plus more for serving
Heat chicken stock in a small saucepan over medium heat; set aside and keep warm. Heat butter in a 4-qt. saucepan over medium-high heat. Working in batches, add mushrooms and cook until golden, 5–7 minutes. Using a slotted spoon, transfer mushrooms to a bowl; set aside. Add shallots and garlic to saucepan; cook, stirring, until soft, 3 minutes. Add orzo, zest, thyme, salt, and pepper; cook 2 minutes. Add reserved stock ¼ cup at a time, cooking until each addition is absorbed before adding next amount. Cook, stirring often, until liquid has all been used and orzo is tender, about 30 minutes. Add cream and cook, stirring, until liquid is creamy, about 3 minutes more. Remove from heat and stir in reserved mushrooms, lemon juice, parmesan, salt, and pepper; serve with additional parmesan on the side.
---
Click here to view archives.
Customers should always refer to their benefit booklet or call the customer service number on the back of their identification card for detailed coverage information and limitations. See our legal disclaimer for more details.
@BCBSofAlabama