Select content that is important to you from the menu below.
Click on a category, then drag and drop the daily article news feed that interests you into the area below.
Content Archive
View previously published articles with the most recent shown first. Filter the articles by clicking on the category title, Health, Family, Lifestyle, or Nutrition.
Organic:
EATINGWELL: Chili-Roasted Carrots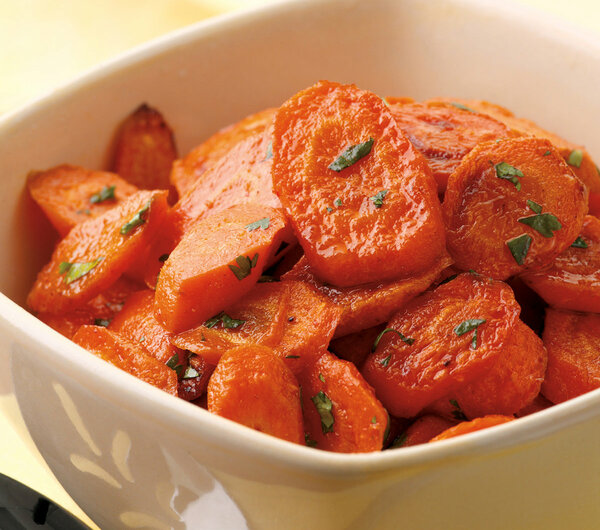 Roasted with chili powder and cumin then tossed with cilantro and lime juice, these carrots are bursting with zesty flavor. Serve them with simple roast chicken or pork.
Chili-Roasted Carrots
Makes 4 servings.
Active Time: 15 minutes
Total Time: 35 minutes
2 tablespoons canola oil
1 teaspoon chili powder
1 teaspoon ground cumin
1/2 teaspoon salt
2 pounds carrots (10-12 medium), cut into 1/4-inch diagonal slices
2 tablespoons chopped fresh cilantro
2 tablespoons lime juice
Recipe Steps:
Position rack in lower third of oven; preheat to 450 F.
Combine oil, chili powder, cumin and salt in a medium bowl. Add carrots and toss well to coat. Spread out on a rimmed baking sheet. Roast the carrots, stirring once, until tender and golden, 20 to 25 minutes.
Toss the carrots with cilantro and lime juice. Serve immediately.
Recipe Nutrition:
Per serving: 161 calories; 8 g fat (1 g sat, 4 g mono); 0 mg cholesterol; 23 g carbohydrate; 0 g added sugars; 2 g protein; 7 g fiber; 455 mg sodium; 750 mg potassium.
Nutrition Bonus: Vitamin A (762 percent daily value), Vitamin C (27 percent dv), Potassium (21 percent dv).
1 Carbohydrate Serving(s)
Exchanges: 2 vegetable, 2 fat
(EatingWell is a magazine and website devoted to healthy eating as a way of life. Online at www.eatingwell.com.)
---
Click here to view archives.
Customers should always refer to their benefit booklet or call the customer service number on the back of their identification card for detailed coverage information and limitations. See our legal disclaimer for more details.
@BCBSofAlabama