Select content that is important to you from the menu below.
Click on a category, then drag and drop the daily article news feed that interests you into the area below.
Content Archive
View previously published articles with the most recent shown first. Filter the articles by clicking on the category title, Health, Family, Lifestyle, or Nutrition.
Organic:
ENVIRONMENTAL NUTRITION: Think amaranth for healthy variety
Source: Environmental Nutrition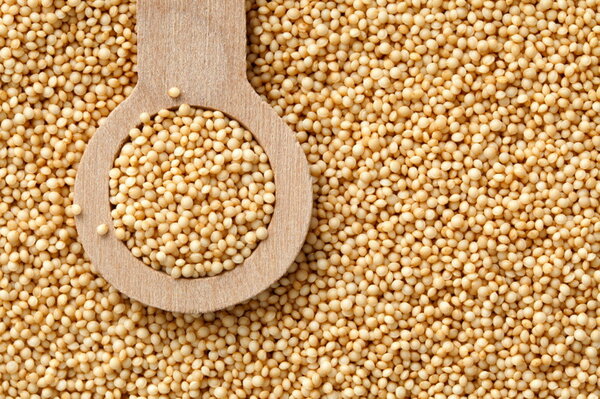 Amaranth, a less well-known grain than some of its cousins, has been steadily climbing out from obscurity and reclaiming its ancient glory. This native of Peru was as much a staple crop as corn to the pre-Colombian Aztecs, who used it both as food and in religious ceremonies. When Cortez brought Christianity to the New World in the 16th century, he banned amaranth and other foods used in "heathen" festivals. Fortunately, amaranth couldn't be held back. Today, this ancient grain is appreciated as a nutrient-rich, versatile food, and a worthy addition to any menu.
Actually, amaranth is not really a grain at all. It's in the same family as spinach, Swiss chard, beets and quinoa -- a different plant species than true cereal grains, like oats and wheat. But because it is similar in nutrient profile and use for thousands of years, amaranth is often called a pseudocereal, and is considered a whole grain by the Whole Grains Council. There are more than 60 different species of amaranth today, used as both leafy vegetables and cereals. A half-cup serving of cooked amaranth boasts 11 percent Daily Value (% DV, based on 2,000 calories per day) of dietary fiber, 10% DV of protein, and an impressive 53% DV of bone-building manganese.
Amaranth is rich in a peptide similar to lunasin (found in soybeans), which is thought to have cancer-preventive benefits. According to a study in a 2010 Peptides journal, the lunasin-like peptide in amaranth inhibited cells from becoming cancerous. While studies on the potential benefits of amaranth on cardiovascular disease (CVD), specifically lowering cholesterol levels, are still in preliminary stages, researchers hypothesized in a 2007 study in Lipids and Health Disease, that it could be of significant benefit for patients with CVD. Amaranth is a good source of iron, and was recently shown to reduce the prevalence of anemia when added to the maize porridge of anemic Kenyan children in a study published in a 2013 issue of Public Health Nutrition.
The tiny, yellow-tan colored grains of amaranth are similar in size to sesame seeds. Used whole or ground into flour, amaranth has a distinctly nutty-sweet flavor with a satisfying crunch when cooked. Amaranth greens are edible, but are not easy to find. Store the grain in an airtight container up to six months. Prepare the grains like popcorn, in a hot skillet, or like rice. Stir cooked amaranth into soups or stews, or use as a rice substitute or as a hot morning cereal. Enjoy amaranth flour in muffins, cookies or pancakes, but mix this gluten-free flour with an equal amount of wheat flour if making leavened breads.
Notable Nutrients: Amaranth, cooked (1/2 cup)
Calories: 125
Dietary fiber: 3 g (11 percent DV)
Protein: 5 g (10 percent DV)
Vitamin B6: 0.15 mg (7 percent DV)
Folate: 27 mcg (7 percent DV)
Iron: 3 mg (15 percent DV)
Magnesium: 80 mg (20 percent DV)
Phosphorus: 182 mg (18 percent DV)
Manganese: 2 mg (53 percent DV)
Selenium: 7 mcg (10 percent DV)
Amaranth Berry Pudding
Adapted courtesy Bob's Red Mill
Serves 4.
1/2 cup amaranth grain
2 cups apple juice
Zest of 1 lemon
1 stick of cinnamon
2 cups fresh or frozen berries
2 tablespoons agave nectar
1 tablespoon sliced almonds
1. In a medium saucepan, bring amaranth, apple juice, lemon zest, cinnamon stick to a boil. Reduce heat to low and let simmer for about 10 minutes.
2. Remove cinnamon stick and stir in berries and agave. Pour the pudding into small bowls and let cool. May be served warm or cold. Garnish with almonds.
Nutrition information per serving: 173 calories, 1 g fat, 38 g carbohydrate, 3 g dietary fiber, 6 mg sodium.
(Environmental Nutrition is the award-winning independent newsletter written by nutrition experts dedicated to providing readers up-to-date, accurate information about health and nutrition in clear, concise English. For more information, visit www.environmentalnutrition.com.)
---
Click here to view archives.
Customers should always refer to their benefit booklet or call the customer service number on the back of their identification card for detailed coverage information and limitations. See our legal disclaimer for more details.
@BCBSofAlabama