Select content that is important to you from the menu below.
Click on a category, then drag and drop the daily article news feed that interests you into the area below.
Content Archive
View previously published articles with the most recent shown first. Filter the articles by clicking on the category title, Health, Family, Lifestyle, or Nutrition.
Activities:
Fun Kids' Outdoor Birthday Party Themes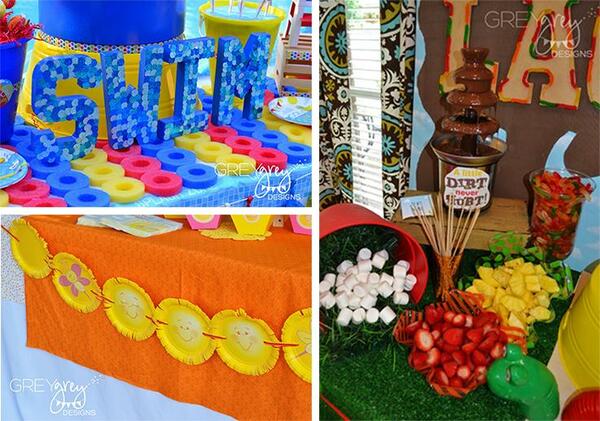 Inspiration for Celebration
Take advantage of the sunshine and warm weather by having your child's birthday party outdoors. Not sure where to start? Check out these fun themed ideas and DIYs (and learn some party-planning tips along the way) from Memphis-based event designer and work-at-home mom of two, Brittany Schwaigert of greygreydesigns.com
.
Photo by: Working Mother Editor
Theme: Pool Party
Elevate your child's poolside festivity with this classic theme, which uses a mostly primary-colored palette of reds, blues and yellows—perfect for gender-neutral parties. For this setup, Schwaigert decorated a table with beach staples like beach balls, sand pails and lanterns. For food, she included a cake with blue frosting and containers with blue taffy, cake pops and beach-themed cookies.
Photo by: Working Mother Editor
Life Saver Table
Working moms looking to pull off this theme can jazz up a party table by adding a layer of "life savers." To do this, slice red, yellow and blue pool noodles. Then line up the "life savers" according to your desired pattern and secure them to the table using hot glue. For the "Swim" display pictured right, use chipboard letters from a crafts store and set them on top of the table. Here, Schwaigert decorated the letters with large sequins which were also secured using hot glue.
Photo by: Working Mother Editor
Taste the Rainbow​
Putting together this treat display is easier than it looks. The secret? Themed paper prints, which can go a long way towards making your child's party look polished. Schwaigert used an invitation ordered from an online site,
Birthdays Express
, to decorate a blue basket displaying store-bought rainbow lollipops. You can also seek other online vendors, like
Etsy
and
Piggy Bank Parties
, for party printables, since "they provide tons of adorable themes, and you can print them all off on your home printer. All you have to do is cut them out," Schwaigert says.
Photo by: Working Mother Editor
Theme: Sunshine Party
This sunshine party is sure to brighten up your child's day. When it comes to getting together items for this kind of festivity, think warm, summery colors like yellow and orange against a clean white background, and a splash of a contrasting hue, like a bright shade of pink. Also, look for circle-shaped decorations to play off of the sun theme.
Photo by: Working Mother Editor
Picture-Perfect Plates
For this bright-hued party, you can create a fun, textured backdrop for photos using just paper plates. To recreate the one pictured here, Schwaigert fringed the rims of yellow paper plates to create sun shapes, and overlapped them and glued them to each other. Then she hung the finished product over a fence. Although the size of the photo backdrop may seem intimidating, you can easily adjust the size of your backdrop by choosing to use fewer plates.
Photo by: Working Mother Editor
Sunny Banner
Connect leftover plates with string to create a sunny banner to adorn your party table—another easy way to brighten up your party on the cheap.
Photo by: Working Mother Editor
Theme: Dirt!
Summer birthday parties don't have to be all water and sunshine, which is exactly why we adore this unique dirt-themed party. Schwaigert incorporated pails and shovels as both decoration and ways to display snacks for this out-of-the-box party.
Photo by: Working Mother Editor
Grassy Table
In keeping with the outdoorsy dirt-theme, cut out enough astroturf to serve as table cloth for your party table. Schwaigert went the extra mile and adorned the table cloth with a string of bright red and green shovels tied to both ends of the table.
Photo by: Working Mother Editor
Sweets Station
To recreate this yummy snack table, set up a chocolate fondue fountain with skewers and a selection of marshmallows and fresh fruit to be dipped into the chocolate. And don't forget to include some gummy worms!
Photo by: Working Mother Editor
Here are other important party-planning tips to keep in mind:
Consider your child's interests. For other unique party ideas, think about what your child likes to do. Schwaigert's Dirt-themed birthday party was inspired by her son's love of exploring the outdoors.
Ask for help. "Don't be afraid to outsource," says Schwaigert. "Trying to be Super Pinterest Mom and doing everything yourself can be not only time-consuming but can deflate your confidence. You can find amazing craftspeople on Etsy and around the Internet with just a few clicks."
Work with what you have. "If you have a backyard that is more like a garden, do a 'Garden Fairy' party for girls, or a 'Life's a Garden, Dig It' party for boys. If you live in the Southwest and have a sandy backyard, throw a 'Luau' or an ocean-themed party," she suggests.
Store the memories. Birthdays come and go, but the memories are forever. Designate a family friend or other guest to be the picture taker. Make sure he or she captures photos of both the design and decor and of the guests enjoying themselves. Then make sure to upload pictures immediately afterwards to post up on your social media networks or to print using a service like Eventful Prints so you can always look back on those special moments.
---
Click here to view archives.
Customers should always refer to their benefit booklet or call the customer service number on the back of their identification card for detailed coverage information and limitations. See our legal disclaimer for more details.
@BCBSofAlabama