Select content that is important to you from the menu below.
Click on a category, then drag and drop the daily article news feed that interests you into the area below.
Content Archive
View previously published articles with the most recent shown first. Filter the articles by clicking on the category title, Health, Family, Lifestyle, or Nutrition.
Organic:
German Potato Salad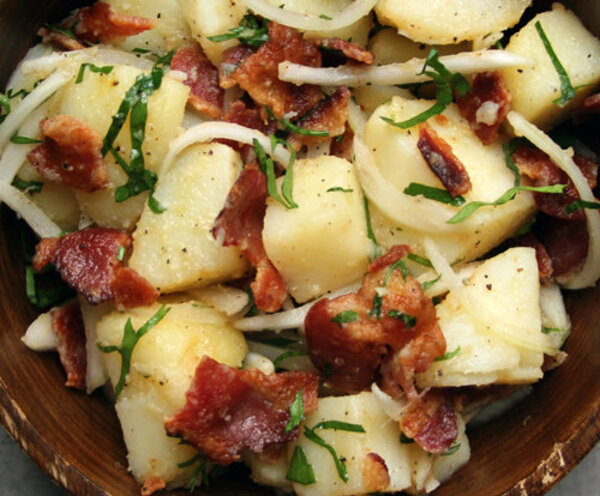 Credit: Helen Rosner
SERVES 6-8
INGREDIENTS
6-8 medium waxy potatoes
Salt
12 thick slices bacon
1 large yellow onion, peeled and thinly sliced
6 tbsp. white wine vinegar
Freshly ground black pepper
¼ cup chopped fresh parsley leaves
INSTRUCTIONS
1. Put potatoes into a large pot, cover with cold water by 2"to 3", and add a generous pinch of salt. Bring to a boil over medium-high heat, reduce heat to medium, and gently boil until potatoes are tender when pierced with the tip of a knife, 15–20 minutes.

2. Meanwhile, cook bacon in a large skillet over medium heat until crisp, 10–15 minutes. Drain on paper towels, setting skillet with rendered fat aside. Crumble bacon into large pieces.

3. Drain potatoes, peel while still hot, and cut into 1" cubes. Put potatoes into a large warm serving bowl and add bacon and onions. Return skillet with bacon fat to medium-high heat and heat until hot. Carefully add vinegar and salt and pepper to taste. Pour hot dressing over potato mixture and toss well. Adjust seasonings. Garnish with parsley. Serve warm.
---
Click here to view archives.
Customers should always refer to their benefit booklet or call the customer service number on the back of their identification card for detailed coverage information and limitations. See our legal disclaimer for more details.
@BCBSofAlabama