Select content that is important to you from the menu below.
Click on a category, then drag and drop the daily article news feed that interests you into the area below.
Content Archive
View previously published articles with the most recent shown first. Filter the articles by clicking on the category title, Health, Family, Lifestyle, or Nutrition.
Activities:
Kid Made, Dad Adored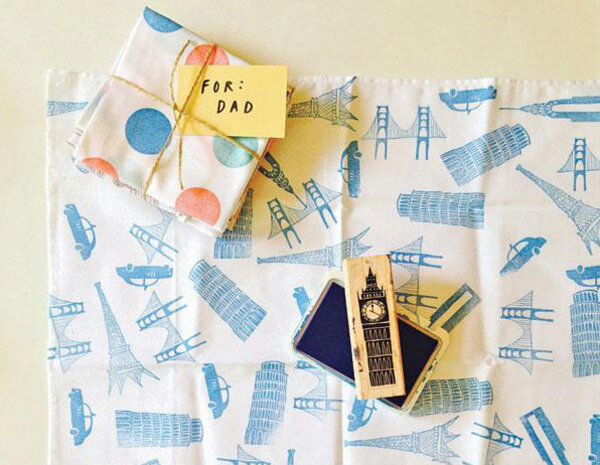 Instead of buying him yet another necktie for Father's Day, help the kids whip up some homemade daddy love with these ideas from Christine Schmidt, founder of Yellow Owl Workshop in San Francisco (yellowowlworkshop.com).
His Cup of Joe
Cut out shapes or letters from self-adhesive contact paper and stick them on the outside of a clean white mug. Have your little artist make marks in bold colors all over the mug and stuck-on shapes with water-based glass paint markers from an art supply store. Then remove the contact paper to reveal the unique design.
Stamp Act
Find some rubber stamps Dad will like: his favorite animal; icons of Paris if he's a Francophile. Let your child use them with water-based, all-purpose stamp pads to make patterns on white cotton handkerchiefs. Heat-set the ink by placing a low-temp iron over the design for 10 seconds. Later, use the same stamps to create matching wrapping paper or a customized Father's Day card.

Bag Tags
Make decorative tags by cutting 3- by 5-inch rectangles out of matte white shrink plastic, available at craft stores. Have the kids decorate the pieces with rubber stamps and permanent-ink, all-surface stamp pads (the ink adheres to non-porous surfaces). Hole-punch each, place between two pieces of parchment paper, and bake according to plastic instructions—until they shrink 50 percent. Thread leather twine through the holes to attach to Dad's gym bag or suitcase.

Photo by: Working Mother Editor
stamp project
---
Click here to view archives.
Customers should always refer to their benefit booklet or call the customer service number on the back of their identification card for detailed coverage information and limitations. See our legal disclaimer for more details.
@BCBSofAlabama