Select content that is important to you from the menu below.
Click on a category, then drag and drop the daily article news feed that interests you into the area below.
Content Archive
View previously published articles with the most recent shown first. Filter the articles by clicking on the category title, Health, Family, Lifestyle, or Nutrition.
Wellness:
More People Losing Sleep over Their Pets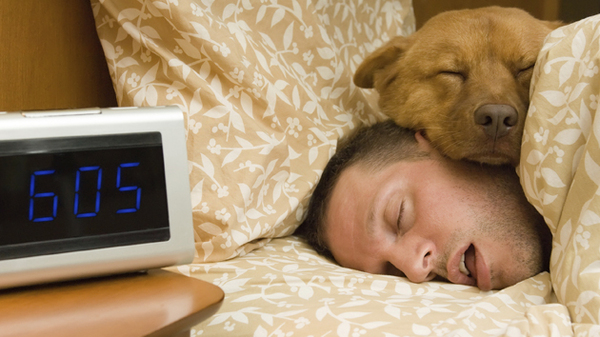 iStock/Thinkstock
(ROCHESTER, Minn.) -- It seems that more people are complaining that their furry companions are making it harder for them to get a restful sleep, based on new figures from the Mayo Clinic.
More than a decade ago, only 1 percent of those who went to the Mayo Clinic's sleep center blamed their dog, cat or bird for disrupting their sleep. By 2013, that figure increased to 10 percent.
So what changed? Lead author Dr. Lois Krahn explains it could be that more households in the U.S. now feature multiple pets.
Kahn says some of the complaints of pet owners are that their animals snore, whimper, wander around the house or need to go outside.
This latest study indicated "that while the majority of patients did not view their pets intolerably disturbing their sleep, a higher percentage of patients experienced irritation," according to Kahn.
As a result, she recommends that "sleep specialists should ask about companion animals and help patients think about ways to optimize their sleep."
Follow @ABCNewsRadio
Copyright 2014 ABC News Radio
---
Click here to view archives.
Customers should always refer to their benefit booklet or call the customer service number on the back of their identification card for detailed coverage information and limitations. See our legal disclaimer for more details.
@BCBSofAlabama