Select content that is important to you from the menu below.
Click on a category, then drag and drop the daily article news feed that interests you into the area below.
Content Archive
View previously published articles with the most recent shown first. Filter the articles by clicking on the category title, Health, Family, Lifestyle, or Nutrition.
Organic:
Start off summer with a pair of refreshing and healthy homemade juice drinks
Source: WOLFGANG PUCK'S KITCHEN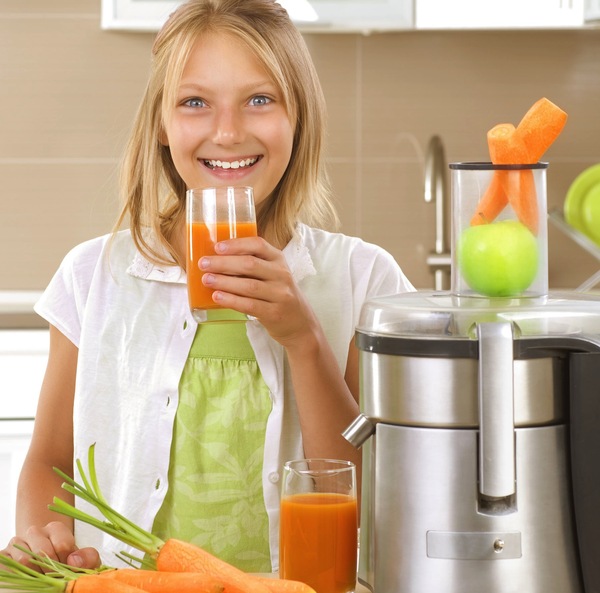 I don't want to step into the middle of the ongoing debate about global warming. But, as I write this column, temperatures where I live in Southern California are heading toward a seasonal record of more than 100 degrees F. And it isn't even summer yet!
By the time you read this, however, summer will be a few days away (June 12). And, you and I will be thinking about the best ways to beat the heat.
Tempting as they may be, I stay away from the easy standbys of sodas and punches, regardless of whether they're sweetened naturally or artificially. Report after report confirms that we're consuming too much sugar these days, and it makes no sense to ingest lab chemicals in our quest for calorie-free sweetness.
I prefer refreshing myself more naturally. Often, I'll drink pure water when I'm thirsty, but I also enjoy juices that I extract from in-season, organic, pesticide-free fruits and vegetables.
You'll find many electric juice extractors available in stores today. Look for one that's sturdy, simple to use and easy to clean. Some models enable you to regulate the amount of pulp in your juice, which means you can enjoy thicker juices that also contain more dietary fiber.
As you'll see from the two recipes I share here, you can make all sorts of different, delicious, healthful juice drinks. One of my favorites, my Power Juice Blend, is a great example of the "green" juice drinks so popular today. It blends kale (an outstanding source of vitamins including K, A, and C; minerals; and micronutrients that help fight heart disease and cancer); spinach (similarly vitamin- and mineral-rich and a great source of antioxidants); juicy, mild celery and cucumber (still more good nutrient sources); sweet apple (you know what they say about "an apple a day"); and spicy-sweet ginger (a great immune-system booster, cancer fighter, and natural pain-reliever for arthritis). What amazes me is how the apple and ginger flavors star here; and some people wouldn't even realize that vegetables play a supporting role, if it weren't for the emerald color.
Speaking of which, many nutritionists now suggest that a great way to get a wide variety of nutrients is to eat (or drink) a rainbow of produce. My Orange Gazpacho definitely covers another part of the spectrum with its blend of carrots, oranges and apples -- abundant in vitamins A and C, among many other nutrients. I call it a gazpacho, after the traditional Spanish cold tomato soup, because you can serve it in chilled bowls as a light first course. But it's also great sipped as a juice, and children love it.
Try these two recipes, and then start experimenting with your own variations. Enjoy a summer full of refreshment, along with great nutrition.
WOLFGANG'S POWER JUICE BLEND
Makes about 3 cups, 4 servings
6 leaves organic green kale, thoroughly chilled in the refrigerator
4 large stalks organic celery, thoroughly chilled in the refrigerator
2 organic green apples, thoroughly chilled in the refrigerator
1 medium organic English cucumber, thoroughly chilled in the refrigerator
1-inch piece fresh ginger root
1 cup packed organic baby spinach leaves, thoroughly chilled in the refrigerator
About 30 minutes before serving, put juice glasses in the freezer to chill.
Just before serving, use a sharp knife to cut out and discard the tough ribs of the kale leaves. Trim the celery. Cut the apples into wedges and the cucumber into chunks. Peel the ginger.
One at a time, feed all the ingredients, including the spinach, through an electric juice extractor. Stir the juice thoroughly and serve immediately, pouring the juice blend into chilled glasses.
CARROT-ORANGE GAZPACHO
Makes 4 servings, each about 6 ounces
2 cups fresh organic carrot juice, juiced at home or store-bought
1/2 cup fresh organic apple juice, juiced at home or store-bought
1/2 cup fresh organic orange juice, juiced at home or store-bought
Thin slices fresh organic carrot or apple for garnish (optional)
Combine the juices in a nonreactive pitcher or jar. Cover and refrigerate for several hours, until thoroughly chilled.
Meanwhile, put 4 glasses or small serving bowls, each with about a 1-cup capacity, in the freezer to chill.
Just before serving, remove the pitcher or jar from the refrigerator and the glasses or bowls from the freezer. Briefly stir the juice blend and then pour it evenly into the glasses or bowls, garnishing with carrot or apple slices, if you like. Serve immediately.
---
Click here to view archives.
Customers should always refer to their benefit booklet or call the customer service number on the back of their identification card for detailed coverage information and limitations. See our legal disclaimer for more details.
@BCBSofAlabama