Select content that is important to you from the menu below.
Click on a category, then drag and drop the daily article news feed that interests you into the area below.
Content Archive
View previously published articles with the most recent shown first. Filter the articles by clicking on the category title, Health, Family, Lifestyle, or Nutrition.
Environment:
Want to Save the Environment? Eat this Water Bottle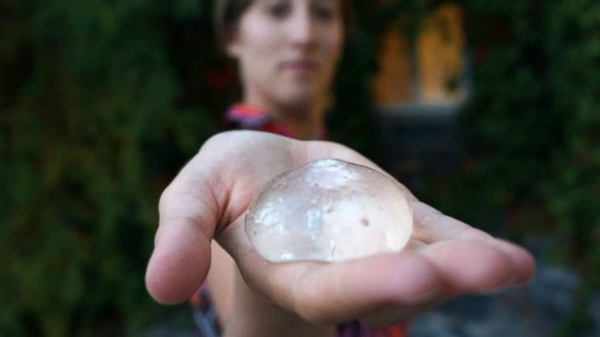 Spherification is the same processed used to make bubble tea. Credit: Rodrigo García González
(LONDON) -- A new edible water bottle may be an environmentally-friendly solution to the millions of plastic bottles that clog America's landfills each year.
Invented by the same team at London's Imperial College that came up with Hop! -- the robo-suitcase that follows around its owner -- the Ooho water bottle borrows from the culinary process of spherification to form a gelatinous membrane around a frozen liquid. It's the same technique used to make faux caviar and bubble tea.
The process starts with a chunk of ice dipped into a bath of calcium chloride to form a membrane. Then, the sphere is dipped a second time into a solution of brown algae to reinforce its structure. Finally, when the water melts, it's contained in a secure, flexible pouch that looks like a clear Chinese dumpling.
Project leader Rodrigo García González said the idea for the edible bottle came to him while he was working on an artificial cloud that could evaporate sea water and transport it to where it was needed.
"When faced with the task of delivering water, we wanted to avoid plastic containers so we began to experiment with different ways to packaging water," González told ABC News. "After a lot of lateral thinking and experimentation, we started to play with the technique of spherification and found a potential way to solve the problem we had identified."
The product isn't ready for market just yet. González said his team still has to work out how to reseal the pouch once it's pierced, and admitted that not all of the testers were wild about the texture.
"Some people say that they are like breast implants or jellyfish," he said.
But once they work out the kinks, González said he hopes the team can put Ooho into mass production. But you don't have to wait, he added. Anyone with knowledge of spherification can make it in their own kitchen.
Copyright 2014 ABC News Radio
---
Click here to view archives.
Customers should always refer to their benefit booklet or call the customer service number on the back of their identification card for detailed coverage information and limitations. See our legal disclaimer for more details.
@BCBSofAlabama