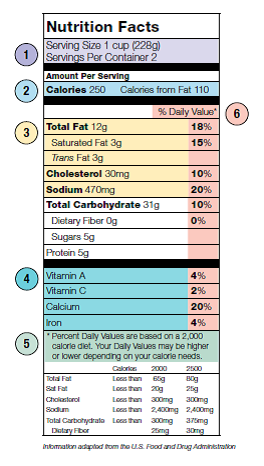 Learning how to read a food label is an important step in making better choices for your health. The food label can help you identify the best foods to choose, make food comparisons and balance your food choices.
Learn How to Read a Food Label
Start Here

It's important to identify how many servings are in the package. The serving size listed is often much smaller than what you would expect. Some packages may appear to be only one serving, but may actually contain two or three.

Check Calories

The number of servings you consume actually determines the number of calories you eat. As a general rule, 40 calories is low, 100 calories is moderate and 400 calories is high for a serving of food.

Limit These Nutrients

These nutrients are often too high in our diet. Eating too much of these nutrients may increase risk for certain chronic diseases such as heart disease, cancer and high blood pressure.

Get Enough of These

This section includes the nutrients associated with good health, but are often the ones we do not get enough of.

Footnote

The footnote at the bottom of the label stays the same and will not change from product to product. It provides recommendations for certain nutrients based on a 2,000 or 2,500 daily calorie diet for all Americans.

Quick Guide to % Daily Value

This area is a quick guide to determine if a food is low or high in a certain nutrient. If the % Daily Value is 5% or less, it is considered low, and if the % Daily Value is 20% or more, it is considered high.