Select content that is important to you from the menu below.
Click on a category, then drag and drop the daily article news feed that interests you into the area below.
Content Archive
View previously published articles with the most recent shown first. Filter the articles by clicking on the category title, Health, Family, Lifestyle, or Nutrition.
Weight Loss:
Grilled Shrimp Lettuce Cups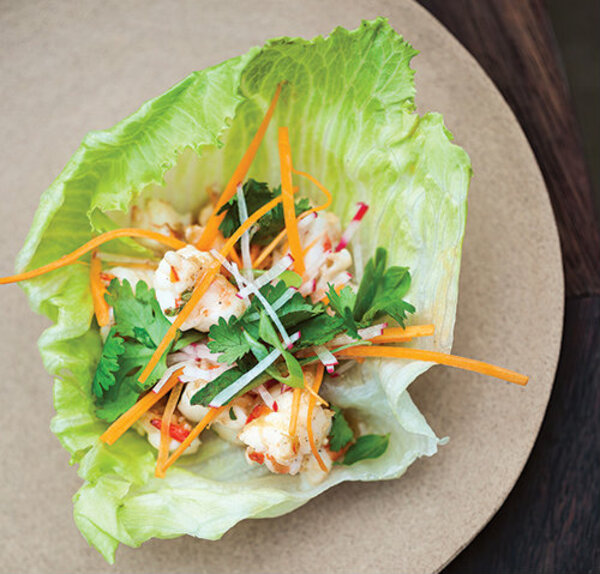 Credit: Mark Roper
SERVES 4-6

INGREDIENTS
1½ lb. raw medium shrimp, peeled and deveined, tails removed
¼ cup olive oil
2 small fresh red Thai chiles, stemmed and finely chopped
1 stalk lemongrass, trimmed, bruised with a mallet, and cut into 2″ pieces
1 (4"-piece) ginger, peeled and grated
Kosher salt and freshly ground black pepper, to taste
7 (10") bamboo skewers, soaked in water for 30 minutes
4 small radishes, julienned
1 medium carrot, julienned
1 cup cilantro leaves
1 cup Thai basil leaves
1 head iceberg lettuce, crisp inner leaves only, for serving
Sweet chile sauce, for serving

INSTRUCTIONS
1. Combine shrimp, oil, chiles, lemongrass, ginger, salt, and pepper in a bowl; toss to combine. Cover and refrigerate at least 4 hours or up to overnight.

2. Heat a charcoal grill or set a gas grill to high; bank coals or turn off burner on one side (see "Grilling 101"). Heat a plancha or flat cast-iron griddle over coals until very hot. Remove shrimp from marinade and thread onto skewers; grill on plancha, flipping once, until slightly charred and cooked through, about 3 minutes. Remove shrimp from skewers and serve with radishes, carrots, cilantro, and Thai basil leaves in lettuce leaves; drizzle with sweet chile sauce.
---
Click here to view archives.
Customers should always refer to their benefit booklet or call the customer service number on the back of their identification card for detailed coverage information and limitations. See our legal disclaimer for more details.
@BCBSofAlabama