Select content that is important to you from the menu below.
Click on a category, then drag and drop the daily article news feed that interests you into the area below.
Content Archive
View previously published articles with the most recent shown first. Filter the articles by clicking on the category title, Health, Family, Lifestyle, or Nutrition.
Young Families:
Researchers emphasize parent's role in keeping kids at a healthy weight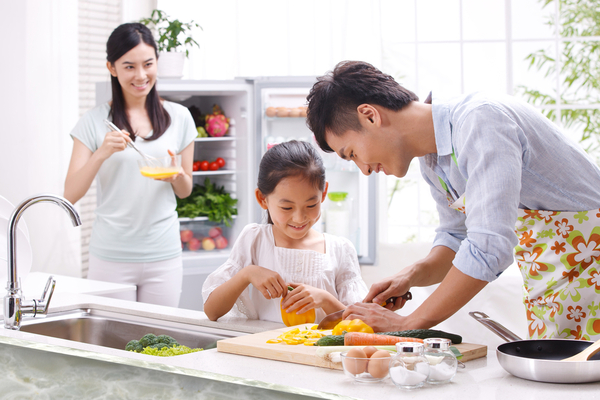 Researchers at the University of California San Diego School of Medicine surveyed a group of parents whose children were undergoing obesity treatment and found many of them unwilling to acknowledge weight problems and the health implications they could have. Growing evidence suggests parents play an essential role in teaching children healthy habits and making sure they stick.
Researchers say that to keep children healthy or solve weight problems, parents must accept the importance of regular physical activity and be aware of the consequences of unhealthy habits developed during childhood.
"Parents have a hard time changing their child's dietary and physical activity behaviors," says lead author Kyung Rhee, MD, an assistant adjunct professor in the Department of Pediatrics. "Our study tells us what factors may be associated with a parent's motivation to help their child become more healthy."
In the study, researchers called upon 202 parents of children enrolled in an obesity clinic at the Hasbro Children's Hospital in Providence, Rhode Island to respond to a survey investigating how to manage their children's health.
Their children represented a wide age gap of between five and 20 years old, and 94 percent had been classified as clinically obese.
Shockingly, 31.4 percent of parents who responded to the survey said they perceived their child's health as excellent or very good and 28 percent did not perceive their child's weight as a health concern.
Most of the children had been referred to the clinic by a primary care provider.
More than half the parents said they were taking steps to improve their children's diets, although only 41 percent reported encouraging their children to get involved in beneficial activities such as sports, dance, play-time or walking.
A 2012 study published in the Journal of Physical Activity and Health says that to get children active, parents must first activate themselves.
The study in question did not include data on the parents' diet and exercise habits, although parents who considered their own weight problems to be a health concern were in fact less likely to be taking an active role in changing their obese children's eating habits.
In a 2012 study from the University of California San Diego, researchers found that the number one way for parents to help an obese child lose weight was to lose weight themselves.
In the study, parents of children over the age of 14 had less influence over their offspring's health habits than those with younger children, which suggests parents should adopt and pass on a healthy lifestyle when their children are young.
The study was published in the Journal of the Academy of Nutrition and Dietetics.
---
Click here to view archives.
Customers should always refer to their benefit booklet or call the customer service number on the back of their identification card for detailed coverage information and limitations. See our legal disclaimer for more details.
@BCBSofAlabama