This website will be unavailable Sunday, March 29, starting at 2 p.m. until Monday, March 30, 6 a.m. We apologize for any inconvenience.
Select content that is important to you from the menu below.
Click on a category, then drag and drop the daily article news feed that interests you into the area below.
Content Archive
View previously published articles with the most recent shown first. Filter the articles by clicking on the category title, Health, Family, Lifestyle, or Nutrition.
Recipes:
SERIOUSLY SIMPLE: Season's fruit bounty comes together in Summer Stone Fruit Cobbler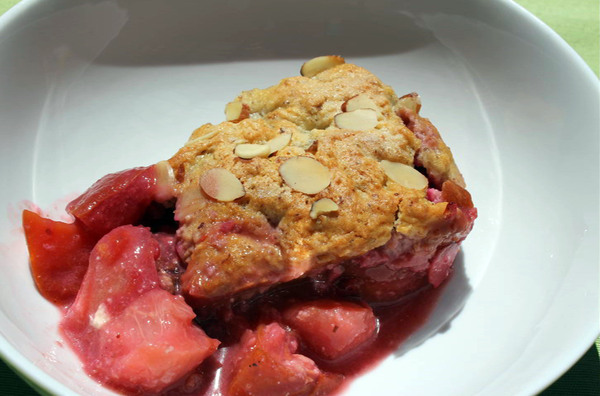 Summer desserts are meant to celebrate the season. Fruit pies, cobblers, buckles and crisps are casual yet intensely satisfying. These desserts depend upon the best seasonal fruits, usually topped with a cake, streusel or both.
Fruit cobblers are easy to make and always receive rave reviews. Partially cooking the filling prior to adding the cobbler dough helps the dough cook evenly. The heat of the bubbling fruit helps the bottom of the dough cook through and also rise.
This rendition takes advantage of the sweet summer stone fruit crop. I like the combination of the slightly tangy plum and the sweet, juicy peach or nectarine. You can personalize this recipe to include your favorite seasonal fruits of the moment, such as nectarines, apricots and Bing cherries. You can even add a mixture of some of each. Bing cherries add a rosy color to the liquid (make sure they are pitted). Follow the cup measurements below for best results.
The cobbler dough includes almond meal and almond extract, which gives a complementary flavor to the fruit dessert. Don't worry if the dough is sticky. I like to use an ice cream scoop to place it on the hot filling and then spread it out with a spatula. It should have some fruit peeking out of the dough for a beautiful and rustic presentation. A scoop of frozen vanilla ice cream or yogurt with each serving is a must!
Summer Stone Fruit Cobbler
Serves 6 to 8.
6 large or 10 medium yellow or white peaches or nectarines (about 10 cups), cut into 1 1/2-inch pieces
4 plums, purple or yellow or a combination, (about 3 cups), cut into 1 1/2-inch pieces
1/4 cup sugar
1 teaspoon finely chopped lemon zest
1 tablespoon all-purpose flour
Cobbler Dough:
1/2 cup ground almonds (almond meal)
1 1/2 cups all-purpose flour
6 tablespoons sugar, plus 1 tablespoon
1 1/2 teaspoons baking powder
1 teaspoon baking soda
1/2 teaspoon salt
6 tablespoons unsalted butter, chilled and cut into 1/4-inch pieces
3/4 cup buttermilk
1 teaspoon vanilla
1/2 teaspoon almond extract
1 large egg
2 tablespoons sliced almonds
French vanilla ice cream, optional
1. Preheat the oven to 400 F. Butter and flour a 9- by 13-inch baking dish.
2. Prepare the filling: Combine the fruit, sugar, lemon zest and flour in a bowl, and mix well to combine. Spoon into the prepared dish. The fruit should come up 1/4-inch from the top. (Save room for the cobbler dough.)
3. Place the dish on a baking sheet in the oven and bake for 20 minutes, until hot and bubbly.
4. Prepare the dough: In a medium mixing bowl combine the ground almonds, flour, 6 tablespoons sugar, baking powder, baking soda and salt. Cut in the butter with your fingers or two forks until it resembles the size of small peas. In a small bowl, combine the buttermilk, vanilla, almond extract and egg, and whisk to combine. Pour it into the center of the dough mixture and mix to combine with a wooden spoon. The dough will be sticky.
5. When the fruit has cooked for 20 minutes, remove it from the oven. Place on a heatproof counter. Use an ice cream scooper to drop the dough onto the hot fruit. You can spread out the dough and make it as even as you like. The more uneven the dough, the more cobbled the dough will look. Sprinkle the remaining tablespoon of sugar and the sliced almonds over the dough
6. Return the cobbler to the oven for about 20 more minutes or until it is golden brown and the dough is cooked through. Let cool for 30 minutes and serve with French vanilla ice cream, if desired. The cobbler is best served warm.
Advance Preparation: May be prepared up to 8 hours ahead and kept at room temperature. Serve at room temperature or reheat in a 350 F oven for 10 to15 minutes.
(Diane Rossen Worthington is an authority on new American cooking. She is the author of 18 cookbooks, including "Seriously Simple Holidays," and also a James Beard award-winning radio show host. You can contact her at www.seriouslysimple.com.)
---
Click here to view archives.
Customers should always refer to their benefit booklet or call the customer service number on the back of their identification card for detailed coverage information and limitations. See our legal disclaimer for more details.
@BCBSofAlabama