Select content that is important to you from the menu below.
Click on a category, then drag and drop the daily article news feed that interests you into the area below.
Content Archive
View previously published articles with the most recent shown first. Filter the articles by clicking on the category title, Health, Family, Lifestyle, or Nutrition.
Recipes:
Spiced Beef Flatbread (Khima Chapati)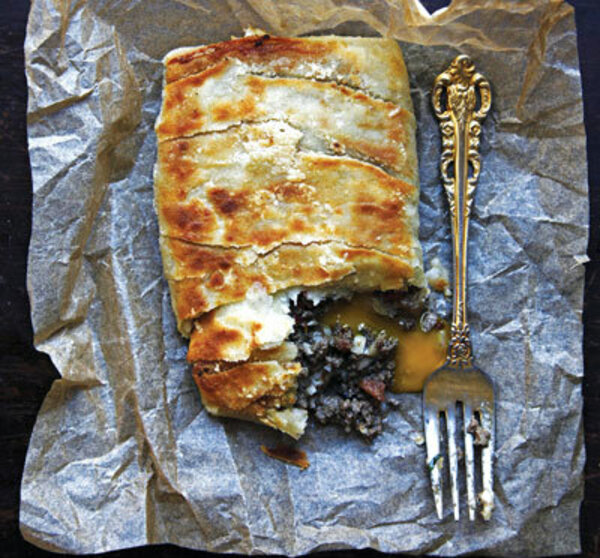 Credit: Todd Coleman
SERVES 6

Ingredients
2 cups flour, plus more for rolling
½ tsp. kosher salt, plus more to taste
1 cup plus 2 tbsp. melted ghee
2 tsp. dried mint, crushed
2 tsp. garam masala
1 tsp. coriander seeds, cracked
1 tsp. crushed red chile flakes
1 tsp. cumin seeds, cracked
8 cloves garlic, minced
1 4" piece ginger, minced
1 lb. ground beef chuck
1 medium tomato, minced
2 tbsp. yogurt
3 sprigs cilantro, minced
4 red or green Thai chiles, stemmed, seeded, and minced
1 small red onion, minced
Freshly ground black pepper, to taste
6 eggs

Instructions
1. In a large bowl, stir together flour, salt, and ½ cup water until a dough forms. Transfer dough to a lightly floured work surface and knead until smooth, 4-6 minutes. Divide dough into 6 pieces, roll into balls, and transfer to a round 9" dish. Pour 1 cup ghee over dough balls and cover dish with plastic wrap; let rest for 2 hours.

2. Meanwhile, heat 2 tbsp. ghee in a 4-qt. saucepan over medium heat. Add mint, garam masala, coriander, chile flakes, cumin, garlic, and ginger and cook until fragrant, 1-2 minutes. Add beef, tomato, and yogurt and cook, stirring, for 10 minutes. Remove from heat and stir in cilantro, chiles, red onion, salt, and pepper; set meat mixture aside to let cool.

3. Transfer dough balls to a work surface, reserving ghee in the baking dish. Working with one ball at a time, roll dough into a 10" circle. Brush 1 tsp. of the reserved ghee onto dough and dust with 1 tsp. flour. Starting from edge closest to you, begin making ½" accordion-like folds, laying one fold on top of the other until you have a single long, stacked strip of dough. Leaving dough strip on its side, so that the accordion pleats face you, twist the strip of dough into a spiral, tucking the loose end underneath. Using a rolling pin, flatten the spiral into an 8"-10" circle. Place one-sixth of the meat mixture in the center of the dough and form a well. Crack one egg into the center of the meat mixture. Fold edges of the dough over the egg so that the edges meet in the middle; pinch edges together to form a closed square packet. Transfer dough packet to a baking sheet, cover with a moist towel, and set aside; repeat with remaining dough circles, ghee, flour, meat mixture, and eggs; set dough packets aside.

4. Working in 3 batches and wiping out skillet between each batch, heat 2 tbsp. of remaining reserved ghee in a 12" nonstick skillet over medium heat; add two of the dough packets and cook, flipping once, until golden brown and the egg inside has just set, about 12 minutes. Repeat with remaining ghee and dough packets.
---
Click here to view archives.
Customers should always refer to their benefit booklet or call the customer service number on the back of their identification card for detailed coverage information and limitations. See our legal disclaimer for more details.
@BCBSofAlabama