Select content that is important to you from the menu below.
Click on a category, then drag and drop the daily article news feed that interests you into the area below.
Content Archive
View previously published articles with the most recent shown first. Filter the articles by clicking on the category title, Health, Family, Lifestyle, or Nutrition.
Recipes:
Summer break perfect time to teach your kids to cook: Chocolate hazelnut spread a good place to start
Source: WOLFGANG PUCK'S KITCHEN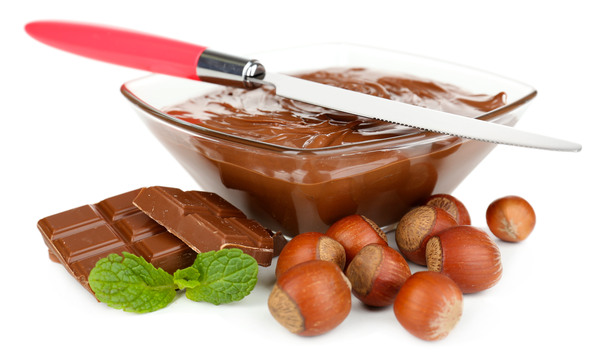 "How are we going to keep the children busy this summer?"
In some parts of the country, the school break is quickly approaching, while it's already begun elsewhere. Regardless of the timetable, you'll hear that one big question. Certainly, many families are planning for vacations and excursions, summer camps, sports activities, play dates and lessons. But what about downtime? Every summer, there are hours, even days, when children are simply home. I know this well as the father of two grade school-aged sons and two more young men.
Parents everywhere give special thought to how they can lure their kids away from TV, video game consoles, computers and smartphones. Sure, all those electronic devices can help keep children amused, as long as you set limits on time and monitor content. But I'd also like to suggest another activity to share with your children, one that sometimes gets overlooked: cooking.
My two young boys love to cook with their mother and me. They'll assemble Panini with their choices of bread, sliced meats, cheeses and condiments, then cook them (closely supervised, of course) on a countertop electric panini machine. Or together we'll select ripe, juicy fruit from the farmers' market, such as summertime berries, and we'll freeze them and then puree them in a food processor to make healthy sorbets.
And sometimes, for a special treat, we'll get more indulgent.
A lot of children (and grownups) enjoy snacks or desserts featuring spreads made from chocolate and nuts. But few people stop to think how easy such spreads can be to prepare.
That's why I'd like to share my recipe for Chocolate Hazelnut Spread. Easy though it is to prepare, it delivers results even better than versions you scoop out of a jar. Why? Because you start with nuts you roast yourself to a rich golden brown, maximizing their flavor. And you use your favorite chocolates, the best you can find in the supermarket or specialty shops.
Some precautions are in order, of course, especially when cooking with kids. Don't make this recipe unless you're certain that no one who might eat the spread is allergic to the nuts. And when roasting the nuts, working with a sharp processor blade, or heating the cream and stirring the mixture, keep little hands safely clear. Even at a distance, I can guarantee you that children will be enthralled as they see the chocolate melt and blend to become a deliciously fudgy mixture.
Enjoy it as a dip for pretzels, a spread for crisp apple slices or graham crackers, or an ingredient in gourmet s'mores. It will delight your children -- and make the adults in your house feel like kids on summer vacation!
CHOCOLATE HAZELNUT SPREAD
Makes about 5-1/2 cups
1/2 pound shelled raw hazelnuts
9 ounces milk chocolate (about 38 percent cocoa solids), coarsely chopped
7 ounces dark chocolate (about 65 percent cocoa solids), coarsely chopped
1/2 cup glucose syrup or light corn syrup
2 cups heavy cream
1/2 to 1 teaspoon sea salt
Preheat the oven to 350 degrees F.
Spread the hazelnuts in a single layer on a rimmed baking sheet or pan. Put them in the oven and roast until they smell fragrant, their skins are dark and cracked, and the nutmeats underneath look deep golden brown, about 15 minutes, stirring them 2 or 3 times while they roast. Remove the nuts from the oven and leave them at room temperature until cool enough to handle.
Pour the nuts into the center of a clean kitchen towel. Fold the towel over the nuts to enclose them completely and then rub the nuts thoroughly inside the towel to dislodge their skins. Pick out the nuts, transfer them to the bowl, and carefully shake the skins from the towel into the trash.
When the hazelnuts are completely cooled, put them in a food processor fitted with the stainless-steel blade. Pulse the machine on and off several times to chop them coarsely; then, run the machine continuously until the nuts form a paste, stopping once or twice to scrape down the bowl. Use a rubber spatula to remove the paste from the processor bowl, working carefully around the sharp blade, transferring the nut paste to a bowl. Set aside.
Put both the milk and dark chocolates in a mixing bowl. Drizzle the glucose or corn syrup over them.
In saucepan, warm the cream over medium heat until it reaches a simmer.
Pour the simmering cream over the chocolate in the bowl. With a wire whisk, begin stirring in the center of the bowl to combine the melting chocolate and cream. As the chocolate begins to blend with the cream, forming a smooth, shiny mixture, stir in more and more chocolate from the sides until the mixture is completely smooth. Add the hazelnut paste and sea salt to taste, and continue stirring until the nut paste and the chocolate and cream are completely blended.
Spoon the mixture into individual small serving glasses or bowls or into 1 or more larger serving containers. Leave it to cool and set at room temperature. Then, cover with plastic wrap and chill in the refrigerator until ready to serve.
---
Click here to view archives.
Customers should always refer to their benefit booklet or call the customer service number on the back of their identification card for detailed coverage information and limitations. See our legal disclaimer for more details.
@BCBSofAlabama