The Alabama Blue mobile app is available for your smartphone or mobile device.
Save Time. Get your plan details, such as copay amounts, and file drug claims. Check your FSA/HRA balances, and use your device's camera to submit a photo-receipt capture for reimbursement — all on the go.
Download Alabama Blue
The Alabama Blue app is free, but standard usage fees from your wireless carrier may apply.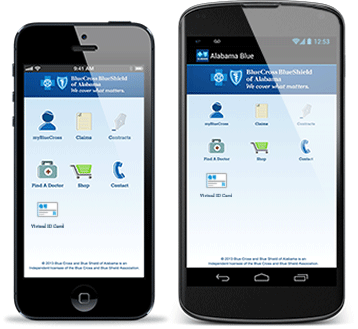 Features for Everyone

Shop — Browse affordable health plans, compare benefits and get a free quote instantly.

Find a Doctor — Find a doctor, hospital or dentist nearby. Add the listing to your phone contacts with just one click.
Features for Blue Cross Members

myBlueCross — Easily manage your health coverage in one location. Pay online, view copay(s), file your drug claims, rate your doctor, photo-capture reimbursements and more.

Claims — Quickly access and review your most recent claim statements.

Virtual ID Card — View and email your ID card(s) to physicians and/or dependents.

Contracts — View and manage your contract information as well as access dependent information.